This article is copyright 2003 by Antonio J. García and originally was published in the International Association of Jazz Educators Jazz Education Journal, Vol. 35, No. 5, March 2003 . It is used by permission of the author and, as needed, the publication. Some text variations may occur between the print version and that below. All international rights remain reserved; it is not for further reproduction without written consent.
A Visit to South Africa
by Antonio J. García

Antonio García solos as guest artist with the Technikon Pretoria Big Band.
The sixth South African Association of Jazz Educators (SAJE) Conference kicked off on November 28, 2002 in Pretoria, South Africa with the theme of "Jazz Education in Developing Countries" and the support of such sponsors as the French Institute of South Africa, the U.S. Embassy Pretoria, the South African Music Rights Organization, the Centre for Jazz and Popular Music at the University of Natal, and the Technikon Pretoria, where the Conference was held through December 1. It was my privilege to observe and learn from the event firsthand as an invited guest artist from beyond the region's borders, as did John Fedchock (trombone, New York), Bobby Shew (trumpet, Los Angeles), Francois Jeanneau (soprano sax, Conservatoire Nationale de Paris, France), and Ron McCurdy (trumpet, Past IAJE President, University of Southern California).
My own goals may have differed from those of many of the approximately 150 attendees, as I wished to experience not only the regional jazz musicians but also those who play the indigenous music of the area; and I wanted to learn more about the current nature of jazz education in South Africa. I hoped that I would hear how South Africans express jazz through improvisatory performances of regional folk and popular tunes, and my best opportunities came via the concerts of the small-group youth bands that shared their music during various receptions and lunches.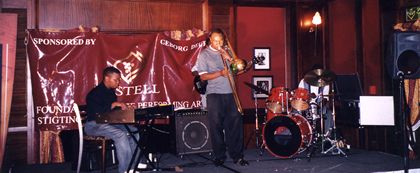 Students from the Technikon in Pretoria perform at the opening reception of the SAJE Conference: Tshepo Monareng (piano), Jabu Magubane (trombone, leader), Solomon Mokolobate (bass, hidden), and Bucco Xaba (drums, hidden).
Photo credit: Antonio J. García
The Technikon Pretoria Student Band, led by Jabu Magubane, presented a jazz program largely of grooves derived from local music and did so at a restrained volume; some of the other small ensembles, such as the Eclipse Ensemble (Dobsonville College) and the Mmabatha Foundation Band projected their music forth much more loudly. As I continued to listen to such quality groups as the Fuba School of Music Jazz Ensemble, I realized that the student solos were almost exclusively diatonic, plus the occasional blue note: there was little chromatic alteration or extension within solos.
Since my own presentation during the Conference was to embrace chromaticism, I discussed this aspect with a number of educators present who confirmed that the diatonic path was the one most traveled—whether due to the surrounding songs of the local townships, the encouragement of local elders, or to the relative fear of chromatic experimentation shared by young improvisors in any country. This safer point of improvised entry is not typical of the South African university-level groups, however—meaning either that the idiom's vocabulary expands by that age or that the diatonic folk influence is rather a contemporary wave for the youth of South Africa.
The strong interest in and response to South African popular song in jazz format was in evidence by the enthusiastic audience response to such works when presented from the stage. For example, Darius Brubeck (piano), Mike Rossi (sax), Marc Duby (bass), and Lulu Gontsana (drums) offered Mamazala, a slower tune by Zim Ngqawana (a former University of Natal at Durban student and currently a visiting artist at the University of Tennessee) evocative to my ears of gospel-influenced songs (and of the early Keith Jarrett/Jan Garbarek collaborations); and the attending crowd began singing along, frequently bursting into shouts and applause reminiscent of a church revival or a New Orleans bar. That same night the University of Cape Town/Technikon Pretoria Combined Big Band presented director Mike Campbell's arrangement of the kwela-beat, Abdullah Ibrahim composition Nelson Mandela; and at times the crowd could barely contain itself. These reactions far outstripped the audience's response to most "straight-ahead" or "standard tune" renditions at the Conference.
Antonio García scat-sings with the trio of Melvin Peters (piano), Bucco Xaba (drums), and Mike Campbell (bass) at SAJE.
And that audience was the largest in student population since the Conference's founding. In many cases, they and their instructors could try out in performance on site the concepts to which they had just been introduced just an hour or so earlier. As I lunched with Ron McCurdy, I could hear trombonist Gareth Walwyn, an instructor at the Diocesan School for Girls (Grahamstown), soloing with the Funda Unit 6 Jazz Ensemble using the chromatic inflections he had explored in my workshop the preceding hour.
South Africa's appetite for jazz has somehow eclipsed that of its neighboring countries and is not new in coming. Dinga Sikwebu, a machinist's union worker and one of the few jazz enthusiasts at the Conference, described how he owned CDs originally recorded in the 1950s of South Africans playing bebop. "During the apartheid [segregation] era, the government emphasized that each nation [state] should be listening exclusively to music expressed of its own citizens, supposedly in order to raise pride in one's local background. Jazz was not of any one local nation's creation; so listening to and performing jazz was rather a subversive activity." South Africa was liberated from its national policy of apartheid less than a decade ago. There was a palpable excitement among the citizens I met in November, black and white alike, who were optimistic about the future of their "new" country—perhaps more optimistic than U.S. citizens had been in the late 1800s after the American Civil War—and this optimism comes out in the music.

[IAJE Past President Ron McCurdy performs with the University of Cape Town/Technikon Pretoria Combined Big Band directed by Mike Campbell. UCT faculty pianist Andrew Lilley appears left, Technikon student drummer Bucco Xaba appears center, and guest trombonist Antonio García appears far right.
Sikwebu stressed the need for South African jazz institutions to offer jazz appreciation lectures and workshops for the public: "The interest from the public is there: many people want to learn more about understanding jazz."
If this sounds familiar in your own neighborhood, so will Michael Skipper's cautions as the Head of Music at the Diocesan School for Girls and at St. Andrew's College. In his lecture he pointed out the need for institutions of learning to find a way to deal with the forces of popular music in a positive manner along with the existing streams of jazz and classical study. "Are we simply going to ignore Contemporary Popular Music and hope it goes away? Are we going to continue to concentrate on the minority that demonstrates an interest in Art Music and ignore the others? Both these responses would seem to be a recipe to ensure extinction. To ensure the survival of our subject and its relevancy in the eyes (and ears) of teenagers, we must make the effort to find out what Contemporary Popular Music has to offer and incorporate it in our subject." He also noted that with the post-apartheid emphasis on cultural arts instruction in the broadest sense, there has actually been a perceived decrease in emphasis on teaching music as the exclusive focus of an instructor's teaching assignment. "As a young colleague of mine remarked the other day, 'They don't want Music teachers; they want Art and Culture teachers!'" In addition to Skipper's presentation, papers were offered at the Conference by Profs. Mike Rossi and Mike Campbell (University of Cape Town), David Lilley and Marc Duby (Technikon Pretoria), Darius Brubeck and Jeff Robinson (University of Natal, Durban), Carol Martin (TIDES Trust, Cape Town), and others.

Bruce Cassidy (EWI) and Pops Mohamed (mbira) perform together at SAJE.
Photo credit: Antonio J. García
The balance of indigenous and jazz music influences was apparent in the multiple streams of music presented at the SAJE Conference. Trumpeter Bruce Cassidy performed on EWI (electronic wind instrument) with longtime collaborator Pops Mohamed, who elicited music from an array of African instruments including the mbira and various hand percussion. Mohamed's later workshop included his plea that all African students pursuing a degree on a traditional Western instrument (such as violin or piano) also study at least one indigenous African instrument "so that our culture and musical history may be not only preserved but also present so as to be fused with other genres of music, such as jazz."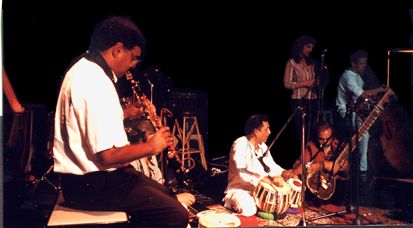 Chats Devroop (saxophone, left) leads the IndoJazz crossover performance at SAJE with Rabin Ram (sarod, partially hidden), Haren Tanna (tabla), Vevek Ram (sitar, and Rabin's brother), Kadumbury Ram (vocals, and Vevek's daughter), and Hilton Oosthuizen (bass).
Photo credit: Antonio J. García
In another fusing, the "Indo Jazz Crossover" offered saxophonist Chats Devroop (University of Pretoria) with a tabla player, a sarod player, a sitar player (one doubling on oud), a bassist, and a vocalist in a program of inspired improvisation surrounded by the stirring, repeated "vamps" of the ensemble. In an earlier conversation, Devroop had expressed to me his ongoing gratitude—as had others such as Darius Brubeck—to Jamey Aebersold, Chuck Sher, David Mash, Dennis Tini, and Chris Collins for their repeated efforts to supply South Africans with much-needed jazz-educational resources, as the international exchange rate is very unfavorable for South African purchases of materials sold in the U.S.: such items cost nearly ten times as much in South Africa. A number of Conference-attending students, including young trombonist Jimson Rakola, politely asked me what materials I'd brought that I could leave with them.
Though he has played trombone for only a few years, Rakola listens to J.J. Johnson recordings and is hungry for more information. "I have a trumpet teacher as my teacher. He is very good, but some things I might learn more directly from a trombone teacher—such as alternate positions, which I had not heard of before John Fedchock's workshop here at SAJE." See the accompanying sidebar for more information as to how you can assist South African jazz education.

John Fedchock (trombone) performs with Andrew Lilley (piano) and Mike Campbell (bass) at SAJE.
Photo credit: Antonio J. García
Bebop jazz was also in full bloom at the Conference, and I found a highlight of the event to be the opportunity to hear live several pianists who must represent the most lyrical among the South African resident cadre: Darius Brubeck (Director of the Centre for Jazz and Popular Music at the University of Natal at Durban), Melvin Peters (freelancer, Durban), Avzal Ismail (Technikon Pretoria), and Andrew Lilley (University of Cape Town). They, along with guitarist and local legend Johnny Fourie, bassists and instructors Marc Duby (Head of Music, Technikon Pretoria), Mike Campbell (University of Cape Town), plus drummer Lulu Gontsana ("house drummer for South Africa," as described by Brubeck) combined in various ways to create high-level rhythm sections throughout the Conference. It is easy to hear why Gontsana's drumming is so revered by South Africans, and we repeatedly heard performances by a young man following in his footsteps: Bucco Xaba, a student at the Technikon, whose contributions to small and large jazz groups during the Conference were superb.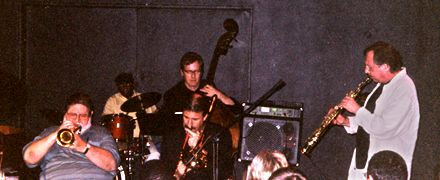 Bobby Shew (trumpet), John Fedchock (trombone), and Francois Jeanneau (saxophone) perform with Lulu Gontsana (drums), and Marc Duby (bass).
Photo credit: Antonio J. García
In some ways, the SAJE Conference brought to my mind what American jazz education may have been in the late 1960s or so, with a half-dozen university jazz programs, high interest from many circles, and the need to increase networking and resources among those interested. Nearly thirty institutions of some sort were represented at the SAJE gathering, a tribute to the long hours of work planning and organizing the Conference invested by David Lilley (SAJE Secretary, a Lecturer at the Technikon, and a trumpeter who fronted his own small group during the weekend) and Evelyn Levitz (also at the Technikon), with the additional assistance of others including Darius and Cathy Brubeck, plus Darius' assistant at Natal, Glynis Malcolm-Smith, and the administrative oversight of Technikon Pretoria staff Marc Duby (Head of Music), Eric Dinkelmann (Dean of Arts), Hugo Durrheim (Vice-Rector), Reggie Ngcobo (Vice-Chancellor and Rector), and the Technikon Foundation. Through their work they were able to bring together not only musicians from far corners of South Africa but also the international guests, perhaps celebrated best when trumpeter Bobby Shew and trombonist John Fedchock presented with a local rhythm section their closing-night sets at the Technikon site.

Lulu Gontsana (drums), Marc Duby (bass, Technikon Pretoria), and Johnny Fourie (guitar) perform in concert at SAJE.
Photo credit: Antonio J. García
My experiences with South African indigenous cultural history and music had actually begun earlier in my trip, as I had spent time at the Makweti Lodge in the Welgevonden Game Reserve absorbing the sights and sounds of birds and animals that surely inspired such instruments as the cuica drum. My exposure continued the day after the Conference with a trip to the Lesedi Cultural Village outside of Pretoria, where representatives of the Zulu, Basotho, Xhosa, and Pedi tribes live in proximity so that visitors such as my wife and I can visit and learn of their housing, foods, history, and music. [Click here for pictures from Lesedi.] There I was able to purchase a number of African musical instruments of higher quality and lower cost than I could find in the U.S.
At Lesedi we were treated not only to a wonderful display of ritual music and dancing by the tribe members but also to the delight of some fifty school children, perhaps age ten, dancing happily to the popular music outside and indigenous music inside of the village. It was clear to me that in South Africa, more so than even in my native New Orleans, children feel free to experience and respond to a wealth of musical melodies and rhythms that can inspire a future of not only listening to music but creating it. With the continued efforts of the SAJE, the youth of South Africa will have ever-expanding opportunities to hear and create jazz in their own way.

Antonio García performs with the University of Cape Town/Technikon Pretoria Combined Big Band directed by Mike Campbell. UCT faculty pianist Andrew Lilley appears left; Technikon student drummer Bucco Xaba appears center.

While on safari, we were confronted by a mother elephant (center) feeling very protective of the babies in the herd, leading to a standoff with more than twenty angry elephants. [Click here for more pictures from our safari.]
Photo credit: Antonio J. García
_ _ _ _ _ _ _ _ _ _ _ _ _ _ _
Antonio J. García is a Professor of Music and Director of Jazz Studies at Virginia Commonwealth University, where he directs the Jazz Orchestra I; instructs Applied Jazz Trombone, Small Jazz Ensemble, Music Industry, and various jazz courses; founded a B.A. Music Business Emphasis (for which he initially served as Coordinator); and directs the Greater Richmond High School Jazz Band. An alumnus of the Eastman School of Music and of Loyola University of the South, he has received commissions for jazz, symphonic, chamber, film, and solo works—instrumental and vocal—including grants from Meet The Composer, The Commission Project, The Thelonious Monk Institute, and regional arts councils. His music has aired internationally and has been performed by such artists as Sheila Jordan, Arturo Sandoval, Jim Pugh, Denis DiBlasio, James Moody, and Nick Brignola. Composition/arrangement honors include IAJE (jazz band), ASCAP (orchestral), and Billboard Magazine (pop songwriting). His works have been published by Kjos Music, Hal Leonard, Kendor Music, Doug Beach Music, ejazzlines, Walrus, UNC Jazz Press, Three-Two Music Publications, and his own garciamusic.com, with five recorded on CDs by Rob Parton's JazzTech Big Band (Sea Breeze and ROPA JAZZ). His scores for independent films have screened across the U.S. and in Italy, Macedonia, Uganda, Australia, Colombia, India, Germany, Brazil, Hong Kong, Mexico, Israel, Taiwan, and the United Kingdom.
A Bach/Selmer trombone clinician, Mr. García serves as the jazz clinician for The Conn-Selmer Institute. He has freelanced as trombonist, bass trombonist, or pianist with over 70 nationally renowned artists, including Ella Fitzgerald, George Shearing, Mel Tormé, Doc Severinsen, Louie Bellson, Dave Brubeck, and Phil Collins—and has performed at the Montreux, Nice, North Sea, Pori (Finland), New Orleans, and Chicago Jazz Festivals. He has produced recordings or broadcasts of such artists as Wynton Marsalis, Jim Pugh, Dave Taylor, Susannah McCorkle, Sir Roland Hanna, and the JazzTech Big Band and is the bass trombonist on Phil Collins' CD "A Hot Night in Paris" (Atlantic) and DVD "Phil Collins: Finally...The First Farewell Tour" (Warner Music). An avid scat-singer, he has performed vocally with jazz bands, jazz choirs, and computer-generated sounds. He is also a member of the National Academy of Recording Arts & Sciences (NARAS). A New Orleans native, he also performed there with such local artists as Pete Fountain, Ronnie Kole, Irma Thomas, and Al Hirt.
Mr. García is a Research Faculty member at The University of KwaZulu-Natal (Durban, South Africa) and the Associate Jazz Editor of the International Trombone Association Journal. He serves as a Network Expert (for Improvisation Materials) for the Jazz Education Network and has served as President's Advisory Council member and Editorial Advisory Board member. His newest book, Jazz Improvisation: Practical Approaches to Grading (Meredith Music), explores avenues for creating structures that correspond to course objectives. His book Cutting the Changes: Jazz Improvisation via Key Centers (Kjos Music) offers musicians of all ages the opportunity to improvise over standard tunes using just their major scales. He is Co-Editor and Contributing Author of Teaching Jazz: A Course of Study (published by NAfME) and authored a chapter within The Jazzer's Cookbook (published by Meredith Music). Within the International Association for Jazz Education he served as Editor of the Jazz Education Journal, President of IAJE-IL, International Co-Chair for Curriculum and for Vocal/Instrumental Integration, and Chicago Host Coordinator for the 1997 Conference. He served on the Illinois Coalition for Music Education coordinating committee, worked with the Illinois and Chicago Public Schools to develop standards for multi-cultural music education, and received a curricular grant from the Council for Basic Education. He has also served as Director of IMEA's All-State Jazz Choir and Combo and of similar ensembles outside of Illinois. He is the recipient of the Illinois Music Educators Association's 2001 Distinguished Service Award.
Regarding Jazz Improvisation: Practical Approaches to Grading, Darius Brubeck says, "How one grades turns out to be a contentious philosophical problem with a surprisingly wide spectrum of responses. García has produced a lucidly written, probing, analytical, and ultimately practical resource for professional jazz educators, replete with valuable ideas, advice, and copious references." Jamey Aebersold offers, "This book should be mandatory reading for all graduating music ed students." Janis Stockhouse states, "Groundbreaking. The comprehensive amount of material García has gathered from leaders in jazz education is impressive in itself. Plus, the veteran educator then presents his own synthesis of the material into a method of teaching and evaluating jazz improvisation that is fresh, practical, and inspiring!" And Dr. Ron McCurdy suggests, "This method will aid in the quality of teaching and learning of jazz improvisation worldwide."
About Cutting the Changes, saxophonist David Liebman states, "This book is perfect for the beginning to intermediate improviser who may be daunted by the multitude of chord changes found in most standard material. Here is a path through the technical chord-change jungle." Says vocalist Sunny Wilkinson, "The concept is simple, the explanation detailed, the rewards immediate. It's very singer-friendly." Adds jazz-education legend Jamey Aebersold, "Tony's wealth of jazz knowledge allows you to understand and apply his concepts without having to know a lot of theory and harmony. Cutting the Changes allows music educators to present jazz improvisation to many students who would normally be scared of trying."
Of his jazz curricular work, Standard of Excellence states: "Antonio García has developed a series of Scope and Sequence of Instruction charts to provide a structure that will ensure academic integrity in jazz education." Wynton Marsalis emphasizes: "Eight key categories meet the challenge of teaching what is historically an oral and aural tradition. All are important ingredients in the recipe." The Chicago Tribune has highlighted García's "splendid solos...virtuosity and musicianship...ingenious scoring...shrewd arrangements...exotic orchestral colors, witty riffs, and gloriously uninhibited splashes of dissonance...translucent textures and elegant voicing" and cited him as "a nationally noted jazz artist/educator...one of the most prominent young music educators in the country." Down Beat has recognized his "knowing solo work on trombone" and "first-class writing of special interest." The Jazz Report has written about the "talented trombonist," and Cadence noted his "hauntingly lovely" composing as well as CD production "recommended without any qualifications whatsoever." Phil Collins has said simply, "He can be in my band whenever he wants." García is also the subject of an extensive interview within Bonanza: Insights and Wisdom from Professional Jazz Trombonists (Advance Music), profiled along with such artists as Bill Watrous, Mike Davis, Bill Reichenbach, Wayne Andre, John Fedchock, Conrad Herwig, Steve Turre, Jim Pugh, and Ed Neumeister.
The Secretary of the Board of The Midwest Clinic, Mr. García has adjudicated festivals and presented clinics in Canada, Europe, Australia, The Middle East, and South Africa, including creativity workshops for Motorola, Inc.'s international management executives. The partnership he created between VCU Jazz and the Centre for Jazz and Popular Music at the University of KwaZulu-Natal merited the 2013 VCU Community Engagement Award for Research. He has served as adjudicator for the International Trombone Association's Frank Rosolino, Carl Fontana, and Rath Jazz Trombone Scholarship competitions and the Kai Winding Jazz Trombone Ensemble competition and has been asked to serve on Arts Midwest's "Midwest Jazz Masters" panel and the Virginia Commission for the Arts "Artist Fellowship in Music Composition" panel. He has been repeatedly published in Down Beat; JAZZed; Jazz Improv; Music, Inc.; The International Musician; The Instrumentalist; and the journals of NAfME, IAJE, ITA, American Orff-Schulwerk Association, Percussive Arts Society, Arts Midwest, Illinois Music Educators Association, and Illinois Association of School Boards. Previous to VCU, he served as Associate Professor and Coordinator of Combos at Northwestern University, where he taught jazz and integrated arts, was Jazz Coordinator for the National High School Music Institute, and for four years directed the Vocal Jazz Ensemble. Formerly the Coordinator of Jazz Studies at Northern Illinois University, he was selected by students and faculty there as the recipient of a 1992 "Excellence in Undergraduate Teaching" award and nominated as its candidate for 1992 CASE "U.S. Professor of the Year" (one of 434 nationwide). He was recipient of the VCU School of the Arts' 2015 Faculty Award of Excellence for his teaching, research, and service. Visit his web site at <www.garciamusic.com>.
If you entered this page via a search engine and would like to visit more of this site, please click | Home |.
For further information on the IAJE Journal, see Selected Links.