This article is copyright 1994 by Antonio J. García and originally was published in Down Beat, Vol. 61, No. 9, September 1994. It is used by permission of the author and, as needed, the publication. Some text variations may occur between the print version and that below. All international rights remain reserved; it is not for further reproduction without written consent.
Improve Your Improv: Not Just What You Say–
But How You Say It!
by Antonio J. García
About ten years ago I attended jazz clarinetist Eddie Daniels' improv clinic at the Loyola University Jazz Festival in New Orleans. It was obvious from the moment he walked in that something had just really excited him...a new recording?...a late-night jam session?
"I just can't get over this," I recall he began. "I'm settling into the plane to come here when the flight attendant begins her safety speech...you know, the one about the seat belt, the oxygen mask.... But she sounds so fresh, so real, like it was the first thing she'd ever thought to say on the subject; and I sat there thinking: 'I'm really listening to her–and enjoying this!' Her delivery was terrific. And that has everything to do with jazz improvisation."
A few years previous, at the same annual festival, I took my seat for an improv clinic by guest artist John von Ohlen. The former Kenton drummer bowed to the applause, sat down at his drum set, and proceeded to play a medley of tunes–by himself. I realized that I, a mere novice, could recognize song after song because of the clarity of his ideas and the skill of his delivery. I figured, "Hey, if he can play an allegedly non-melodic instrument so darn melodically and reach an upstart like me, maybe there's a chance I'll be able to improvise some convincing melodies on the trombone someday!" So I decided to stick with music a while longer–and I have thanked John personally since then for the inspiration.
Delivery is a crucial element of musical success, improvisatory or otherwise. If Frank Sinatra can make the phone book sound lyrical, surely our delivery should afford us a convincing way to make the most of our improvisations.
Decide Your Topic
When you speak, you choose your topic virtually instantly: "How are you?" No one berates you for choosing such a simple phrase, for it is clear and concise. No one chides you for pausing afterward, for by doing so you invite response and interplay. And the dialogue that follows may lead you to unexpected territory.
When you improvise jazz, try doing the same. Choose a clear and concise topic (theme): simple and rhythmic! Keep it brief: only two to four notes! Pause–both to reflect on what you just delivered and to invite response from your accompanying ensemble.
Stick To It!
When you listen to what time is it my what a beautiful day if you why are my shoes sure I'd love to join you....and knowing that I might far too expensive but a few clouds won't spoil the way I feel about starched linoleum floor files.
The above paragraph represents the spoken equivalent of many solos I hear: rambling, run-on phrases. Yet the jazz soloists we appreciate demonstrate a focused direction of their subject matter. You can, too, if you take the time to remember what you just played or sang and reuse it! Why change your topic so soon? If it was important enough for you to say it in the first place, it's important enough to talk about–or play about.
Develop Focus
We concentrate on, develop, and sustain our initial ideas in spoken words every day. Tapping that train of thought in improvisation need not be difficult, especially if you provide your left-brain "technical" side a specific work list that frees your right-brain "creative" side to concentrate on making melodies.
Consider a given phrase, such as "How are you?" How might you repeat that idea differently in speech...without picking different words? And how do those options change the mood or actual content of the original message? All of the techniques listed in Example 1 impact a listener in different ways–both in speech and in music!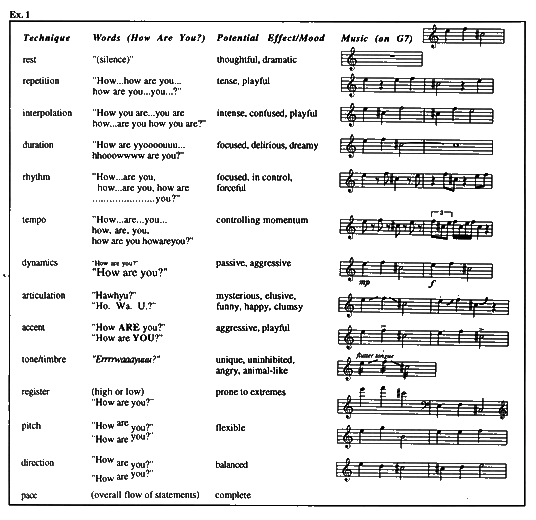 Combine elements for additional expression. Develop your use and blending of these techniques so your musical phrases can become as natural as your spoken ones. Communicate your mood: can you play "sad"..."happy"? If not, how will you or your audience feel the countless shades in between? After all, our favorite soloists pass their emotions to us–not just a collection of musical pitches.
With a practice list before you, you won't have to rely on your memory: your eyes can "shop" for a balance of less-used variations while your ears concentrate on your delivery. If need be, you can apply a suggested order of techniques. The chart in Example 2 starts with the (central) initial phrase or theme, followed by a rest to consider that phrase.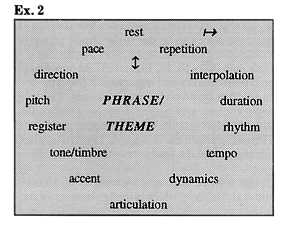 Continuing clock-wise from the "noon" position, you can consider and incorporate a gradual range of variations. Constructive critiques from another person (whether peer or teacher) can point out concerns that you might not yourself identify. But avoid annoying interruptions by organizing the desired techniques visually: your partner can simply point to areas needing attention as your solo proceeds–without interfering with your hearing.
Un-box Your Phrasing
Less-experienced improvisors play or sing in "boxed" two or four-bar phrases. Breathing on the bar-line offers a soloist the crutch of hearing the new chord before responding. Yet jazz lines ideally can begin and end anywhere, just like speech.
Tape record some of your own soloing. Using a sheet of paper marked with bar lines and beats, transcribe your note activity and rests into shapes by dragging the pencil on the paper (lifting the pencil during rests) to create a "map" of your flow and pace across the beats. How does it look to you? Is it too predictable?
If you discover you have been playing virtually non-stop over the chords, it may be time to achieve a more natural balance with pauses. Transcribe, using only wavy lines and spaces across beats, a few solos of agile improvisors such as Charlie Parker, Art Tatum, or Dizzy Gillespie or their musical descendants. You'll likely find that the jazz masters you respect are using far more rests than you–and are placing those rests in surprising parts of the bar. If you wish to have any grasp of their tradition, you'll need to experience more of their skill at phrasing.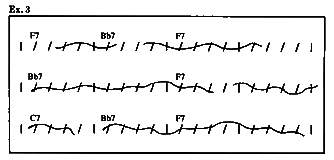 Map a chorus' form on paper (such as the blues in Example 3); then draw a wavy line across the beats to represent your ideal solo activity and flow.
Improvise a simple solo while following the guide. Feel different? Repeat the exercise for several choruses, increasing the difficulty of your lines but maintaining the same placement. Then draw the lines up, down, and mixed–and shape your improv in these contours.
The Rule of Threes
So the pope, the bishop, and the rabbi were marooned in a lifeboat together.... Three men walk into a bar.... A guy finds himself in hell, and the devil tells him, "You must choose your punishment from what's behind these three doors".... In biblical times a man is beaten by robbers and left for dead: "three men come upon him in turn"....
What do many jokes, stories, parables, the 12-bar blues form, and good jazz improvisation often have in common? They each set the stage with an idea, the repeated idea, and a variation or extension of the idea: "The Rule of Threes." Something happens to the priest...the same thing happens to the bishop...but there's a surprising twist to the rabbi's story. Or the first passerby ignores the beaten man, as does the second–but The Good Samaritan tends to the victim's needs. Two examples don't seem quite enough to deliver the meaning; four scenarios often seem too much–but three seem to set up the punch-line or conclusion just right! This principle seems to extend back throughout ancient literature. (Cavemen must have had jokes, too, and were certainly improvisors.)
The blues are rooted in an AAB construction (typically four bars, three times), the B a variation of the A: "I'm so tired I can hardly speak...yeah, I'm so tired I can hardly speak..., but if you came by I'd talk to you all week." When improvising with a theme, remember that literal repetition is only interesting so long. Usually variation is welcome by the third time around. When analyzing a solo, look for such instances of "theme, sequence, extended/varied sequence." You'll probably find it anchors many solos by improvisors you respect. My improv classes and I regularly identify three or four such cycles in a given 32-bar solo.
Common Senses
Visual stimuli can prompt you to deliver an idea or sequence of ideas differently than you might have otherwise, keeping you rut-free. And constructing your solo like a good tale might communicate your thoughts more clearly. So when you're searching for your sense of sound, don't forget your sense of sight! And tell a good story along the way. ("So Thag, Narb, and Korp were foraging by the cave one day....")
_ _ _ _ _ _ _ _ _ _ _ _ _ _ _

Antonio J. García is a Professor of Music and Director of Jazz Studies at Virginia Commonwealth University, where he directs the Jazz Orchestra I; instructs Applied Jazz Trombone, Small Jazz Ensemble, Music Industry, and various jazz courses; founded a B.A. Music Business Emphasis (for which he initially served as Coordinator); and directs the Greater Richmond High School Jazz Band. An alumnus of the Eastman School of Music and of Loyola University of the South, he has received commissions for jazz, symphonic, chamber, film, and solo works—instrumental and vocal—including grants from Meet The Composer, The Commission Project, The Thelonious Monk Institute, and regional arts councils. His music has aired internationally and has been performed by such artists as Sheila Jordan, Arturo Sandoval, Jim Pugh, Denis DiBlasio, James Moody, and Nick Brignola. Composition/arrangement honors include IAJE (jazz band), ASCAP (orchestral), and Billboard Magazine (pop songwriting). His works have been published by Kjos Music, Hal Leonard, Kendor Music, Doug Beach Music, ejazzlines, Walrus, UNC Jazz Press, Three-Two Music Publications, and his own garciamusic.com, with five recorded on CDs by Rob Parton's JazzTech Big Band (Sea Breeze and ROPA JAZZ). His scores for independent films have screened across the U.S. and in Italy, Macedonia, Uganda, Australia, Colombia, India, Germany, Brazil, Hong Kong, Mexico, Israel, Taiwan, and the United Kingdom.

A Bach/Selmer trombone clinician, Mr. García serves as the jazz clinician for The Conn-Selmer Institute. He has freelanced as trombonist, bass trombonist, or pianist with over 70 nationally renowned artists, including Ella Fitzgerald, George Shearing, Mel Tormé, Doc Severinsen, Louie Bellson, Dave Brubeck, and Phil Collins—and has performed at the Montreux, Nice, North Sea, Pori (Finland), New Orleans, and Chicago Jazz Festivals. He has produced recordings or broadcasts of such artists as Wynton Marsalis, Jim Pugh, Dave Taylor, Susannah McCorkle, Sir Roland Hanna, and the JazzTech Big Band and is the bass trombonist on Phil Collins' CD "A Hot Night in Paris" (Atlantic) and DVD "Phil Collins: Finally...The First Farewell Tour" (Warner Music). An avid scat-singer, he has performed vocally with jazz bands, jazz choirs, and computer-generated sounds. He is also a member of the National Academy of Recording Arts & Sciences (NARAS). A New Orleans native, he also performed there with such local artists as Pete Fountain, Ronnie Kole, Irma Thomas, and Al Hirt.

Mr. García is a Research Faculty member at The University of KwaZulu-Natal (Durban, South Africa) and the Associate Jazz Editor of the International Trombone Association Journal. He serves as a Network Expert (for Improvisation Materials) for the Jazz Education Network and has served as President's Advisory Council member and Editorial Advisory Board member. His newest book, Jazz Improvisation: Practical Approaches to Grading (Meredith Music), explores avenues for creating structures that correspond to course objectives. His book Cutting the Changes: Jazz Improvisation via Key Centers (Kjos Music) offers musicians of all ages the opportunity to improvise over standard tunes using just their major scales. He is Co-Editor and Contributing Author of Teaching Jazz: A Course of Study (published by NAfME) and authored a chapter within The Jazzer's Cookbook (published by Meredith Music). Within the International Association for Jazz Education he served as Editor of the Jazz Education Journal, President of IAJE-IL, International Co-Chair for Curriculum and for Vocal/Instrumental Integration, and Chicago Host Coordinator for the 1997 Conference. He served on the Illinois Coalition for Music Education coordinating committee, worked with the Illinois and Chicago Public Schools to develop standards for multi-cultural music education, and received a curricular grant from the Council for Basic Education. He has also served as Director of IMEA's All-State Jazz Choir and Combo and of similar ensembles outside of Illinois. He is the recipient of the Illinois Music Educators Association's 2001 Distinguished Service Award.

Regarding Jazz Improvisation: Practical Approaches to Grading, Darius Brubeck says, "How one grades turns out to be a contentious philosophical problem with a surprisingly wide spectrum of responses. García has produced a lucidly written, probing, analytical, and ultimately practical resource for professional jazz educators, replete with valuable ideas, advice, and copious references." Jamey Aebersold offers, "This book should be mandatory reading for all graduating music ed students." Janis Stockhouse states, "Groundbreaking. The comprehensive amount of material García has gathered from leaders in jazz education is impressive in itself. Plus, the veteran educator then presents his own synthesis of the material into a method of teaching and evaluating jazz improvisation that is fresh, practical, and inspiring!" And Dr. Ron McCurdy suggests, "This method will aid in the quality of teaching and learning of jazz improvisation worldwide."

About Cutting the Changes, saxophonist David Liebman states, "This book is perfect for the beginning to intermediate improviser who may be daunted by the multitude of chord changes found in most standard material. Here is a path through the technical chord-change jungle." Says vocalist Sunny Wilkinson, "The concept is simple, the explanation detailed, the rewards immediate. It's very singer-friendly." Adds jazz-education legend Jamey Aebersold, "Tony's wealth of jazz knowledge allows you to understand and apply his concepts without having to know a lot of theory and harmony. Cutting the Changes allows music educators to present jazz improvisation to many students who would normally be scared of trying."

Of his jazz curricular work, Standard of Excellence states: "Antonio García has developed a series of Scope and Sequence of Instruction charts to provide a structure that will ensure academic integrity in jazz education." Wynton Marsalis emphasizes: "Eight key categories meet the challenge of teaching what is historically an oral and aural tradition. All are important ingredients in the recipe." The Chicago Tribune has highlighted García's "splendid solos...virtuosity and musicianship...ingenious scoring...shrewd arrangements...exotic orchestral colors, witty riffs, and gloriously uninhibited splashes of dissonance...translucent textures and elegant voicing" and cited him as "a nationally noted jazz artist/educator...one of the most prominent young music educators in the country." Down Beat has recognized his "knowing solo work on trombone" and "first-class writing of special interest." The Jazz Report has written about the "talented trombonist," and Cadence noted his "hauntingly lovely" composing as well as CD production "recommended without any qualifications whatsoever." Phil Collins has said simply, "He can be in my band whenever he wants." García is also the subject of an extensive interview within Bonanza: Insights and Wisdom from Professional Jazz Trombonists (Advance Music), profiled along with such artists as Bill Watrous, Mike Davis, Bill Reichenbach, Wayne Andre, John Fedchock, Conrad Herwig, Steve Turre, Jim Pugh, and Ed Neumeister.

The Secretary of the Board of The Midwest Clinic, Mr. García has adjudicated festivals and presented clinics in Canada, Europe, Australia, The Middle East, and South Africa, including creativity workshops for Motorola, Inc.'s international management executives. The partnership he created between VCU Jazz and the Centre for Jazz and Popular Music at the University of KwaZulu-Natal merited the 2013 VCU Community Engagement Award for Research. He has served as adjudicator for the International Trombone Association's Frank Rosolino, Carl Fontana, and Rath Jazz Trombone Scholarship competitions and the Kai Winding Jazz Trombone Ensemble competition and has been asked to serve on Arts Midwest's "Midwest Jazz Masters" panel and the Virginia Commission for the Arts "Artist Fellowship in Music Composition" panel. He has been repeatedly published in Down Beat; JAZZed; Jazz Improv; Music, Inc.; The International Musician; The Instrumentalist; and the journals of NAfME, IAJE, ITA, American Orff-Schulwerk Association, Percussive Arts Society, Arts Midwest, Illinois Music Educators Association, and Illinois Association of School Boards. Previous to VCU, he served as Associate Professor and Coordinator of Combos at Northwestern University, where he taught jazz and integrated arts, was Jazz Coordinator for the National High School Music Institute, and for four years directed the Vocal Jazz Ensemble. Formerly the Coordinator of Jazz Studies at Northern Illinois University, he was selected by students and faculty there as the recipient of a 1992 "Excellence in Undergraduate Teaching" award and nominated as its candidate for 1992 CASE "U.S. Professor of the Year" (one of 434 nationwide). He was recipient of the VCU School of the Arts' 2015 Faculty Award of Excellence for his teaching, research, and service. Visit his web site at <www.garciamusic.com>.

If you entered this page via a search engine and would like to visit more of this site, please click | Home |.

For further information on Down Beat, as well as on the resources referenced above, see Selected Links.