Kjos Music, an outstanding publisher of educational materials and music, has been very supportive of Antonio García's efforts to assist jazz education. Most significantly, Kjos has published his improvisation book, Cutting the Changes: Jazz Improvisation via Key CentersI--actually, FIVE books: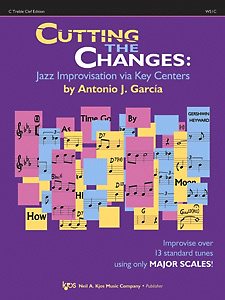 *C Treble Clef Edition (W51C)/ISBN Number 8497-2590-9
*C Bass Clef Edition (W51BC)/ISBN Number 8497-2591-7
*B-flat Edition (W51B)/ISBN Number 8497-2592-5
*E-flat Edition (W51E)/ISBN Number 8497-2593-3
*F Edition (W51HF)/ISBN Number 8497-2594-1
To read more about this resource, please visit the web page devoted to it.


In addtion, Kjos is publisher of a number of García's big band compositions, also listed on a web page.
Presenting a jazz styles workshop to the Lisle Senior High School (IL) Jazz Ensemble as a clinician.

photo credit:
Scott Gumina
The application process for Kjos support to engage Antonio García is as follows:
Contact Antonio García and schedule the clinic/workshop to be hosted at your venue.
Work with García as liaison to request Kjos funding assistance.
| Top |