Jazz Curriculum Approval: An Insider's Look
by Antonio J. García

VCU student Jacob Sherman conducts the VCU Jazz Orchestra I in his first jazz band arrangement before visiting high school students at VCU Jazz Day.
Photo credit: Antonio J. García.
It occurred to me that in all the years I'd faithfully read various educational journals, I'd never encountered an article regarding the process for getting jazz curriculum approved in an educational institution. Granted, the trailblazers that first accomplished the herculean task decades ago—when jazz had been outlawed in many schools—had it far more difficult than jazz proponents do today. Yet virtually anyone who's ever tried to get a jazz program instituted at their school has their share of tales of amusement, frustration, or surprise at the process. At some schools, this procedure might be as smooth as silk.
I will focus this article on advice for the jazz educator towards getting university jazz curriculum passed by the School/Department of Music. Particular emphasis will be given to the challenge of getting an entire Jazz Studies major degree proposal passed at the graduate or undergraduate level. I am confident, however, that constructive tips within these scenarios will offer assistance to readers with different goals, since much of this advice is applicable to elementary and high school environments as well as to non-musical curricular needs.
My quest began by contacting over 40 successful jazz educators across the globe. These men and women span vocal, string, and jazz band/combo programs—plus a few who are not directly affiliated with institutions but have worked within them. Some of these individuals recommended additional contacts to me; and at the end of my two-year study, I had received responses from nearly as many very busy professional artist-educators as I'd originally contacted. I believe this high level of response speaks to the importance of the topic in their eyes, and I foresee the value of my offering a panel discussion on this topic at a future educational conference.
None of the individuals quoted within this article had access to the others' replies; so I am grateful to each for their willingness to contribute their thoughts independently.
GARCÍA: What is your best advice towards getting a Jazz Studies major degree-proposal passed at the college or university level? Your advice might focus on how to structure the curriculum, or on how to deal with non-jazz colleagues, or on any other aspect of the process.
FRED STURM, Chair, Jazz and Improvisational Music Department, Lawrence University Conservatory of Music: Determine first if your music department is best suited for a jazz major, a minor or secondary concentration, or a "jazz emphasis." (Because Lawrence University is an undergraduate institution, I felt that a jazz major was too specialized and failed to promote a wholesome jazz/classical curricular balance for students with strong jazz interests.) Second, calculate the ramifications that the added coursework and coordination will have upon your teaching load. Third, identify other jazz teaching resources within your music faculty and potential adjunct jazz instructors in your area who might be able to assist you. Make certain that you have the mix of disciplines you'll need to cover all facets of your jazz curriculum.
Before you propose the jazz curriculum, examine (1) the NASM guidelines for jazz degree programs, (2) what other jazz programs at universities similar in size and character to yours offer, and (3) the existing performance and composition curricula at your institution. Seek meaningful ways to synchronize and cross-correlate your jazz courses, ensembles, and applied study with the established classical programs in your music department.
Throughout the structuring process, seek the advice and support of your music administration and faculty. From the inception of your program, strive to establish comparable status for jazz offerings with your school's classical music programs. For example, the jazz ensemble and jazz small groups should maintain equal status with the school's other large ensembles and classical chamber groups; similarly, the weighting of course credits, faculty load credit, and student work expectations for jazz courses should be on par with classical offerings. Make certain that your jazz program gets an equitable portion of the music department budget, and seek to have your jazz operation recognized as a distinct department or division of your music school.
RENATA BRATT, freelance clinician, performer, and writer teaching strings in California at the Pacific Elementary school (Davenport), Waldorf Elementary school (Santa Cruz), the Cabrillo Suzuki String program (Aptos), and the University of California–Santa Cruz: Each institution is different. You need to know how yours operates. Some universities need a student-led petition and respond very well to this. Others need a faculty-led proposal process.
Everywhere you will run into faculty members holding very tightly to their domain and very often unwilling to change. Certainly the institution must not believe that this new degree will cost it money. Rather, it must believe that it will gain money somehow from the new degree program (more students applying, or less drop-out from the current music program).
Some music departments will hold out until critical faculty members retire. Others need to see a very successful minor degree program before the major can be established. In string jazz, we have seen carefully managed campaigns by students and their sponsoring jazz director just to get a jazz string orchestra class established, let alone a major in string jazz.
PATRICK DORIAN, Associate Professor, East Stroudsburg University of Pennsylvania: First, get basic core courses in place in the music department catalogue: Jazz History (Semester 1: Listening and Early Jazz through the Swing Era; Semester 2: Bebop Jazz through the present); Improvisation (2 semesters); Jazz Theory (perhaps via a jazz keyboard course); Jazz Masters Seminar (senior mentoring course); Applied Jazz lessons (at least 2 semesters beyond basic applied lessons); and the like.
Then propose a jazz minor, and see if many students enroll in it in addition to the present major course of music study. If student interest is decent, propose a jazz major; but still retain the jazz minor—win/win!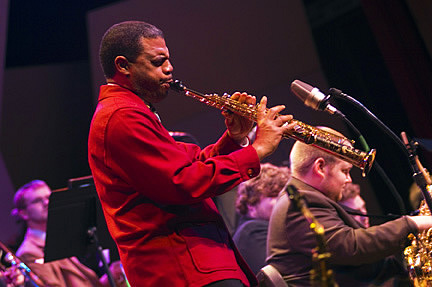 VCU alumnus Steve Wilson performing with
the VCU Jazz Orchestra I.
Photo credit: Allen Jones, VCU Creative Services.
ROBERT BREITHAUPT, Department Chair, Music Industry Studies, Capital University: Jazz studies degrees should be viewed as a specialty degree to attract highly motivated and talented students, not as an "alternative" degree that will attract masses (such as current trends in various music technology and some music industry degrees); the jazz studies degree will not be a cure for enrollment problems in a college music department. With that being said, curricular adjustments and enhancements—based in jazz/popular materials and nomenclature that is applicable to popular and jazz forms—can provide an update to the overall curriculum.
A jazz studies program should be viewed as an opportunity to integrate elements into all aspects of a curriculum. For those that are a part of NASM institutions, the guidelines can be viewed as your best friend, if applied liberally.
Adding a jazz studies major cannot be accomplished by adding "the jazz guy/gal" to a faculty and being done with it. Such tokenism will not accomplish comprehensive goals and does not do the medium justice.
Be ready to view jazz with eyes wide open regarding various styles, approaches, and forms. Many outside the United States view "standard" jazz pedagogy as lock-step; so allow for the same creativity in curricular development as we hope for in the music itself.
Unfortunately there may be some resistance to your efforts, which is tragic as we move into our second century with the music. Articles such as the provocative editorial by Dr. Sammie Ann Wicks in The Chronicle of Higher Education (January 9, 1998) may be needed to generate a debate that should no longer be necessary. If you encounter resistance, persevere.
Unlike the classical/orchestral world, we have little to no performance "infrastructure" (for example, major/national/regional/community orchestras) to provide an emerging jazz student the opportunity to move through the ranks. Therefore, with the demise of the touring jazz bands and show bands (which were held up as performance outlets during the development of many of the current jazz studies programs), our students are relegated to going it on their own into the world of cruise-ship gigs, service bands, and other limited gigs in a diminishing marketplace.
A new system or "paradigm" must emerge on a national basis to recognize that jazz is a cultural music, deserving of support from cultural organizations (which is why I am so driven to do what I do as the Executive Director of the Jazz Arts Group of Columbus).
TED PILTZECKER, Associate Professor, Purchase College: A close examination of required core courses for all other majors in an institution is an excellent way to make the jazz curriculum less threatening during the approval process. Right along with highlighting its unique contribution and importance, the more the jazz major is perceived as having in common with other offerings, the easier it will be to move forward. An attempt should be made to truly understand why the college feels that these core courses are necessary, as they represent a ready-made link to the institution's philosophy.
These "connections" should be explored more deeply, revised, or expanded to create new and exciting arts-oriented course offerings that serve all majors. I believe that all benefit from such a broad approach—including the jazz majors, who often need to expand their horizons and should be asked to do so from the outset. Additionally, opportunities for interaction with other majors—and the ability to readily realize interactive projects (not just in the arts)—should be an important focus of a proposal. This promotes creativity, institutional pride, and improved relations and understanding of other college programs.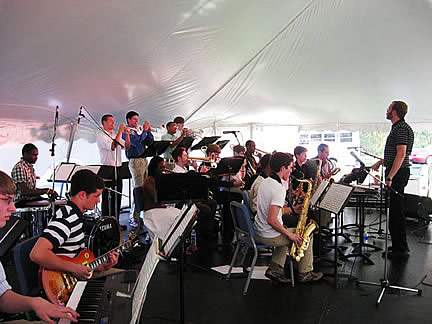 [The VCU Greater Richmond High School Jazz Band performs
at a jazz festival under the direction of
VCU faculty member Bryan Hooten.
Photo credit: Antonio J. García.
JOHN MAHONEY, Coordinator of Jazz Studies, Loyola University of the South: I had little to do with the establishment of a Jazz Studies curriculum at Loyola. I did recently succeed in getting our Evolution of Jazz Styles (Jazz History for Music majors) switched from a Jazz Studies course to a Music History course. This was vital to getting our Jazz minor flexible enough to accommodate Music Ed, Music Industry, and Music Therapy students who might be interested in the minor. It wasn't too hard a task. However the Jazz History remains a 2-credit class, while "Classical Music History" requires two 3-credit semesters.
PARIS RUTHERFORD, Regents Professor, University of North Texas: The acceptance of jazz curriculum at the university level by the usual committees can be difficult. My experience at North Texas has revealed again and again the value of success at the ensemble level. Colleagues "in high places" are quick to measure ensemble preparation and performance from the standpoint of musical style and quality, attention to detail, and the like—and then respond more positively to curricular submissions.
DR. RONALD C. McCURDY, Chair and Professor, University of Southern California: At the University of Southern California we received approval on what I believe to be an innovative yet daring jazz degree program. We already had a jazz program in place, but we made radical changes in our existing undergraduate degree. Given the restrictions as to the number of credits one can offer at the undergraduate level, we had to delete some courses that have always been somewhat sacred in most schools of music.
In order to have more courses that addressed jazz topics, we were able to convince the curriculum committee, the dean, and the rest of our colleagues to remove all of the traditional music theory from the curriculum and have those classes taught in the jazz department. We were also able to reduce two years of Western Art Music History to one year. This was replaced with a full year of jazz history. We also consolidated courses like combo, improvisation, and composition. Part of our goal was to rid ourselves of compartmental classes and reduce the number of 1-credit classes. We wanted the students to learn a particular concept and in the same class be able to apply that same concept.
None of these modifications could have taken place without a well-researched and detailed plan. We took nearly two years studying what our peer institutions were doing. Then we examined our existing curriculum (which had been in place for twenty years). We then asked ourselves: given the changes in the landscape of the music profession, what kind of skill-sets do we want our graduates to possess? With that information, we began the process of redesigning our curriculum.
I am convinced that none of this could have happened if we did not have the respect of our colleagues on the "classical" side of the building. They had confidence that we would craft a curriculum that would better serve our students.
BRIAN COYLE, Director of Jazz Studies, Hope College: I think first you must have a need. If you want a degree at your school but are having trouble filling a big band, your department and by extension the administration probably will not endorse it. If, however, you demonstrate a vibrant program (large numbers), I think you have a much better case to make.
It is also important to demonstrate to your students and department that this is not a selfish endeavor. It is quite easy to make the case that the stronger the jazz program, the stronger the department. For example, if a terrific young jazz trumpeter is recruited, that person will more than likely be a strong contributor to other areas, such as the wind ensemble or orchestra. It has been my experience that a holistic approach is best: "the stronger my program is, the stronger yours is."
What degree program suits your school best: a Jazz Major, a Jazz Emphasis, or a Jazz Minor? Philosophically, it helps to understand the general ethos of your school. I teach in a Music Department at a liberal arts college with a student body of 3,000. It didn't make any sense for me to pursue a Jazz Major, but the Jazz Emphasis and the Jazz Minor fit seamlessly into the overarching mission of the college.
CHRIS VADALA, Director of Jazz Studies/Professor of Saxophone, The University of Maryland: Be sure that your personal reputation as an educator, musician, and colleague is strong and credible. Administrators and faculty who do not place a high priority on jazz may be won over by the probity of a respected member of the music department who is proposing the program. Present a convincing case as to why the program should be adopted, plus a solid course curriculum including specifics such as full-time and adjunct faculty (in place or in mind) and a carefully prepared budget.
Visiting high school students rehearse in a combo
during VCU Jazz Day.
Photo credit: Antonio J. García.

ANTONIO ADOLFO, Founder, Centro Musical Antonio Adolfo, Antonio Adolfo School of Music: Focus on structuring the curriculum with disciplines that combine jazz and traditional/classic teaching. In my opinion, any major student in jazz has to have some of the traditional knowledge besides all of the jazz pedagogy combined.
DENNY CHRISTIANSON, Director, Music Program, Humber College: The approval process for any new degree is always influenced by both the implicit need for the training it offers as well as the politics inherent within the institution and within the ministry of education.
It is critical to address the political terrain by creating something that is different enough from existing degrees that it poses no threat to the status quo of other programs or schools. To please the ministry, the degree must be pedagogically sound while also being innovative so as to make the case that it offers a pathway to success that no other curriculum can offer. These criteria are especially important when dealing with interdepartmental politics: one must offer something as an asset, not a threat—not always an easy task.
As to degrees with a niche focus, they, too, must offer something unavailable elsewhere. This becomes trickier when projected numbers are smaller, making it a harder sell to your administration. It may be more advisable to offer it as a profile within a degree of a larger focus.
We at Humber were forced to come up with a degree with a different focus, as the legislation propelling it specifically forbade mirroring any existing degree in our province. In the long run, this became an asset, as we were able (by focusing on what skills the student needs to have a successful career in a wide variety of applications) to create a curriculum that shares aspects of a traditional Bachelor of Music degree while blending in courses designed with a far more contemporary approach. This approach may become even more valid in the future, as it allows for customizing to student needs as opposed to strictly following a Bachelor of Music/Jazz Studies template that is realistically at least fifty years old by now.
RICHARD LAWN, Dean, College of Performing Arts, The University of the Arts (formerly Director of Jazz Studies, Chair of the Department of Music, and Associate Dean for Academic Affairs, University of Texas at Austin): I have found that it is important to have the support of the core music faculty for any proposed jazz studies programs before they come to public discussion and approval. It is important to do some market research ahead of any formal proposals and discussions. You must learn to anticipate every question and reservation in advance and do lots of subtle politicking while having informal discussions in the hallways, lunchrooms, and faculty centers in advance.
Make certain proposals will conform to campus guidelines as well as any national, regional, and state accreditation guidelines—and that there are enough faculty specialists to support the level and quantity of instruction in jazz being proposed. Determine if adequate library and other specialized resources are available to support the coursework.
Anticipate how many new students the new program(s) will attract, what the student profile will be, and how these students might also benefit other aspects of the music program—especially the traditional performance programs. It can sometimes be helpful to begin with program minors rather than majors.
What kind of financial support will be required in the form of tuition-discounts, scholarships, graduate teaching assistantships, and regular operational funds? Don't sell yourself short by agreeing to start a program with far fewer resources than are needed to be successful, as ultimately you and the program will be measured on its success.
It is important to remember that many faculty see the additional of any new programs outside the norm as more of a financial threat than a philosophical one since there is often a finite pool of resources and since in many cases budgets have been shrinking rather than growing to support new programs.
PAUL TYNAN, Assistant Professor of Jazz Studies, St. Francis Xavier University: My advice is more detailed towards getting university jazz curriculum passed by the Committee on Studies and the University Senate. As academics one must be able to communicate in a way that will make the non-musician understand the necessity of this type of offering in a music program. Caution must be held in regards to the use of musical jargon, and the presentation should focus on intended outcome. This includes recruiting and retention as well as the educational aspect.
In regards to presenting a jazz curriculum to a music faculty, the jazz educator must be able to show intended results as well as evaluation techniques that will be used in grading the students. They must be able to show that a jazz program will not negatively affect the broader program but will in fact strengthen it and nurture its growth.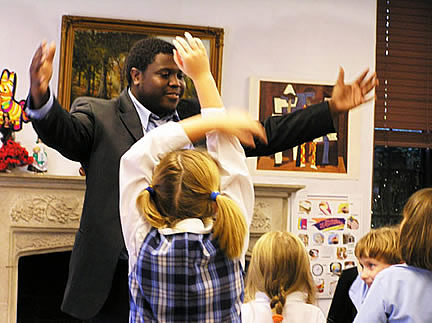 VCU student Reggie Pace leads
Stony Point Middle School students in activity
to the music during an inter-school grant project.
BRET ZVACEK, Director of Jazz Studies, Crane School of Music, SUNY–Potsdam: It's helpful if you can tie your proposed program into the overall mission of the school. At Crane, for instance, we are by mandate primarily an undergraduate music education school. I structured my program to tie in strongly with the needs of new music teachers entering the job market.
I served on both the music school- and college-wide curriculum committees while my proposal was in the works. I was on hand for all discussions, could serve as a resource person, and guaranteed at least one vote in favor of my proposal.
It is good if you can help your non-jazz colleagues to understand that your program can enhance theirs rather than detracting from it. Meet them more than halfway: go to their recitals; join them in an orchestral section or on a new music performance if the opportunity presents itself.
DARIUS BRUBECK, Associate Professor (Retired), University of KwaZulu-Natal: In order to attract jazz students, you have to set up a degree that recognizes rather than marginalizes "jazz" as a mainstream musical discipline. To get through various levels of university and, in many cases, government approval, replicate existing music degrees (undergraduate or postgraduate) as far as possible to the last detail. If differences emerge in the drafting stage, suppress them.
No one is going to check later whether "Jazz Ensemble 1" really requires exactly the same work as "Chamber Music 1." If your curriculum puts a lot of emphasis on transcription—and if the classical or music education degree has a module called ear-training—call transcription "ear-training," too; and assign the same credit points or semester hours. If they have theory, you have theory. Instrument lessons are instrument lessons. Ensembles (whether for credit or not) are ensembles, etc. Make credit points the same for all categories of instruction so there is no issue around transferability of credits from one course to another or need to interpret progression requirements specifically for jazz.
At the postgraduate level, look at recital or dissertation requirements; and make them parallel even though they will of course be very different in reality. Finally, create undergraduate and postgraduate degrees in Jazz Studies (perhaps differentiating between concentrations in Performance, Composition, or Pedagogy) rather than, say, a degree in Jazz Trombone or Jazz Piano, thereby avoiding the issues centered around voice or certain instruments.
PAUL SCEA, Associate Professor, Director of Jazz Studies, West Virginia University: Know who your allies are; they may not be obvious. Our orchestra conductor at the time was the one who fought the most eloquently for our degree.
Understand what the impact will be on other aspects of the curriculum. You should be able to assure applied faculty that this will not be a burden on their studios.
JIM KETCH, Director of Jazz Studies at the University of North Carolina at Chapel Hill: My advice would be to investigate the implications of a specific Jazz Studies degree vis-à-vis expected graduation rates. If the program will be viewed as a separate degree and not a part of a broader Bachelor or Master in Music platform, then you might need to project expectations for graduation.
Following this, one should begin the discussion of funding resources so that you can determine if the scholarship pool will be commensurate with creating and sustaining a comprehensive program and a pool of players that will supplement the educational offerings of the school.
Finally, ascertain what is needed from a curricular and staff standpoint, and determine if you have the staff and coursework necessary for "stand-alone" jazz-degree status. Of course, building across faculty support would be an ongoing process throughout the entire discussion. How nice it is when the degree programmed is embraced rather than merely tolerated.
JOE PARILLO, Professor, Director of Jazz Studies, University of Rhode Island: Address the NASM standards for improvisation. Research other music departments of the same enrollment and overall program as your own that have jazz programs. Look at their enrollment, recruitment, and retention. Have data to make your case.
Examine high school jazz programs as well, especially from areas when recruiting is important from your school's standpoint. Also present the success of educational programs such as Jazz at Lincoln Center and the like.
Consider a curriculum that integrates courses from the existing music program of study. Courses such as theory, ear-training, methods courses, and ensembles can cross over in terms of content and the overall development of the music student.
Consider double majors and design a curriculum that is well-integrated. Many students will major in something other than music in college but would like to continue performing in a jazz group. A Minor or B.A. in Jazz Studies should be easily attainable for non-music majors to get a second degree. This will help the overall enrollment statistics when issues of budget and other kinds of support from the college or university community are challenging for a music department.
DENNIS J. TINI, Distinguished Professor, Co-Founder, Jazz Studies Program, and former Chairman, Department of Music, Wayne State University; Past President, IAJE: Carefully research and evaluate important national/international jazz studies programs; and, if appropriate, review the National Association of Schools of Music (NASM) guidelines for undergraduate/graduate jazz studies degree emphases. Contact experienced colleagues and administrators nationally/globally for professional advice and insights throughout this important process.
Determine the unique aspects of your proposed jazz curriculum and your music school's/institution's strengths and weaknesses. Consider including in whole or part your school's "core music curriculum": this will hopefully provide an inclusive partnership/relationship. "Agree to disagree" and consider a "win-win" philosophy for your colleagues, administrators, and all involved throughout this entire process.
(Front row) Puerto Rican Conservatory student drummer Vladimir Sotomayor, trombone professors Luis Fred and
Hommy Ramos, (red shirt) guest artist Antonio García,
and (second row middle, dark shirt) trombone students
Joshua Ortiz, (front row) Fernando Lopez, Rody Huertas, and Luis Silva after García's masterclass there.

MARCO PIGNATARO, Director, Jazz and Caribbean Music Department, Puerto Rico Conservatory of Music: How can we be really positive that the music of Miles, Ellington, and Coltrane will outlive this century and the next, just like Bach, Mozart, and Beethoven's music have outlived their centuries? I found myself facing this compelling issue lately, when some colleagues of mine and I had to defend the proposal for an expanded jazz history curriculum in front of a panel of classical professors at the institution where I work. The fiercer attack came from a very distinguished and well-read professor that dismissed the current interest toward jazz education as a temporary academic trend, not different from the short-lived trend of the 1960s to introduce ethnic music in the core curriculum. His conservative view held strong to the temporal permanency factor that classical music benefits from when compared to jazz. And there we were...feeling the force of threatening ideas and reassessing the foundations of our comfortable belief system on a pure philosophical domain....
If we prioritize our curriculum's choices by indulging in a qualitative judgment mainly on the basis of which music proves to hold a universal value—and if the only way you can judge this is by measuring which music has the longest tradition—then jazz obviously cannot stand the comparison to the European classical music. Yet, if time is really the main unit of measurement, why aren't we then considering the Indian, Oriental, and Middle Eastern traditions in our music programs? Is that omission an implied qualitative choice?...
As Clifford K. Madsen explains: "One goal [of education] is to acculturate, that is, to make students aware of their cultural traditions and to instill the values of society without necessarily justifying them. The other goal is to innovate and lead the culture forward. Thus, the prospective teacher's job might be to make students aware of the traditions of the past, and aware of the culture in which they presently exist, while also teaching for the future." Furthermore, if in a hundred-year span jazz has proven itself by rapidly developing from folk-music to art-music while appealing to so many different cultures—therefore complying with the basic premise that a true art form transcends its environment and time of creation—couldn't we then safely induce that it will continue to do so in the future, if we endow it with its deserved attention? As a matter of fact, if the classical tradition has endured and developed throughout the centuries, couldn't it be also due to the fact that somebody at some point was very successful in instructing others to think in the same way they were thinking and in the same values they believed in? Isn't this at the very foundation of every kind of tradition?
(The above is excerpted with permission of the author from Pignataro's article "Jazz Matters: Developing a Philosophy of Jazz," originally published in Jazz Improv magazine, Volume 4, Number 3.)
DR. CHATRADARI DEVROOP, Deputy Director (Professional), Directorate Music, UNISA, University of South Africa: I serve on a South African Qualifications Authority body responsible for the Generation of Standards in Music at Tertiary Level. I was external moderator for qualification accreditation prior to my 1997 appointment to the above body.
Ensure that you meet the national requirements for competency at each year of an arts degree study. Decide on whether the jazz study program is going to run over three or four years. Work out the credits for each academic year of study. Establish the competencies required for each of the years of study. Write up unit standards that will enable students to attain these standards. Establish the evaluation mechanism (provision made for learners with disabilities).
Identify the content that will support achieving the competency standards. Ensure that there is a balance between theoretical and practical abilities and that these are comparable to the study of music in other genres (such as western art music).
Send your program for critique to leading scholars in the field for their input. Implement suggestions from subject-experts into your curriculum design. Align your program to job outputs in the music industry.
Submit this program for evaluation within your faculty. Implement your program, and test whether you are achieving your aims. Re-adjust your program in order to meet the original expected aims.
JUSTIN DiCIOCCIO, Chair, Jazz Department and Assistant Dean, Manhattan School of Music: At Manhattan I get very little resistance to updating or changing our curriculum. We do have Jazz String, Voice, and Composition majors, as well as all woodwinds, brass, and rhythm. The jazz and classical faculty work very well together and realize the importance of creating a well- rounded and educated musician—one who can perform all styles of music, which leads to a successful career and a life in music!
DR. STEPHEN ZEGREE, Bobby McFerrin Distinguished Professor of Jazz, School of Music, Western Michigan University: At Western Michigan we established a Jazz Studies Major (that applied to instrumentalists and vocalists) some 30 years ago by establishing evidence of three things. First, we offered a competent faculty (some of whom were also classically trained, myself included) to teach all of the proposed courses (jazz theory, improvisation, arranging, composition, history, and more). The curriculum committee and later the full faculty were inclined to approve of the major because the proposal was written by well-respected, competent faculty members (Trent Kynaston, for example).
Second, we demonstrated an interest from current and future students. No other university in our area offered such a degree program; so it was good economics.
Finally, we clearly offered musical excellence from the student ensembles (big bands and vocal jazz ensembles).
In terms of the vocal component, undergraduate and graduate students choose to major in Jazz Studies either as a singer or an instrumentalist. The curricular requirements are essentially the same. We have very high expectations of our jazz vocal majors: they take all the same courses and have essentially the same requirements as all instrumental jazz majors. The only exceptions are in the specific jazz jury requirements: though equally demanding for singers and players: the specific titles for singers are slightly more geared toward standard vocal repertoire.
Trumpeter/composer Steven Bernstein
talks music business with VCU students.
Photo credit: Antonio J. García.
DR. LARRY RIDLEY, Professor Emeritus, Rutgers, the State University of New Jersey; Professor of Jazz Bass, Manhattan School of Music: My success as the primary and lead architect of the Rutgers University Jazz Performance Degree began in 1971 and was based on assembling internationally renowned working jazz artists who were also outstanding teachers, such as Ted Dunbar, Kenny Barron, Frank Foster, Bill Fielder, and John Stubblefield. Our individual and collective credentials were an important part of the approval process by the University. Additionally was the well-designed and researched curriculum, with the aid of David Baker among others, that stressed the African roots/aesthetic and the social, political, economic, and evolutionary development of jazz through the African American and African Diaspora.
GREG YASINITSKY, Meyer Distinguished Professor, Coordinator of Jazz Studies, Washington State University: We do not have a jazz major; but we do have a Master of Arts with a Jazz Emphasis, a Bachelor of Music in Performance with an Emphasis in Jazz, and a Jazz Minor. In my experience, it is easiest to pass jazz curriculum when there is a demonstrated student demand for it and when a consensus is forged with faculty members from across our School of Music. Faculty in other musical areas are more inclined to help with jazz initiatives when I am sincerely sympathetic and helpful to them and their concerns.
CONNAITRE MILLER, Jazz Studies Coordinator, Howard University: I think it helps to develop respect and friendship amongst your colleagues first. It's a good idea to find out as much as you can about those who have been with the department a long time. Chances are they've contributed quite a lot over the years, but maybe their greatest accomplishments aren't recent enough to be remembered.
Older professors hate to be ignored or thought of as obsolete. As times change and music changes, it can be hard and quite frightening for university professors to be swept up into styles with which they have no experience or background. Many jazz musicians these days (thanks to jazz education) are trained in classical or traditional music as well as jazz and other contemporary styles. They also have multiple skills: composing, arranging, performing, computer or electronic music, recording and producing, teaching large ensembles, small ensembles, and individual lessons. In addition, the jazz teachers are often kind of hip and fun to be around: laid-back, so to speak, well-liked by the students as well as respected. Sometimes a bit of jealousy can arise that can then keep someone from voting for a program out of spite. Also, fear that classical music will become less important and that jazz will "take over" can also keep some from voting in favor of a program.
I suggest making a sincere effort to visit with fellow colleagues individually. Have coffee or lunch and just talk: find out what they like, what they've done, and where they're at in their careers. (Google can help!) If you have time, attend their recitals or concerts: it's a way of showing respect for their art and a genuine interest in what is important to them. Most generally will in turn be interested in you and what you're trying to accomplish.
When they realize you're not trying to replace them—just add something really good—things can progress much more smoothly. There's also a lot of wisdom to be gleaned from more experienced colleagues. They have generally figured out a lot of the politics that we all hate but are nonetheless a reality.
FRANK GRIFFITH, Director of Performance, School of Arts, Brunel University, Uxbridge, Middlesex, United Kingdom: My advice is to tailor your request to show that it strengthens and/or fits into the general ethos and vision of the institution as a whole. For instance, one of the major problems of a classical course is finding practical (performance or composition/arranging) work for its graduates. This is an area that jazz graduates can flourish in, as the training and experience gained in a jazz education will afford them a variety of work opportunities.
As far as dealing with non-jazz colleagues or line managers is concerned, I suggest that module guides and pro formas (descriptive and validating documents of classes) for jazz classes be as open to interpretation and pluralistic as possible in terms of language. For instance, use the term "melody" instead of "head." Jazz has an equal amount of scientific and "proper" terms as classical; so don't "ghetto-ize" it by using the slang terms that many jazz musicians use. Music theory is music theory, whether taught in jazz or classical settings. There is no need for separating the two disciplines that much.
MARTIN NORGAARD, former Adjunct Instructor of Jazz Violin, Belmont University: Before I left Belmont to pursue my Ph.D. in Music and Human Learning at the University of Texas at Austin, I got a new ensemble, "Jazz String Quartet," added to the books; and the ensemble continues to this day. It first existed for a couple of years under a different name, using a universal ensemble course number. It performed at the IAJE Conference in New York in 2001, helping to legitimize its existence. To ensure continuity past possible faculty changes, a proposal was drawn up to add the ensemble to the official list of courses at Belmont. The proposal was evaluated by various committees and the Dean in a process that lasted about a year, and the ensemble was then added to the list of courses
The next step would be to make the ensemble mandatory for certain degree plans, such as the Bachelor of Arts in "commercial music" violin, viola, and cello.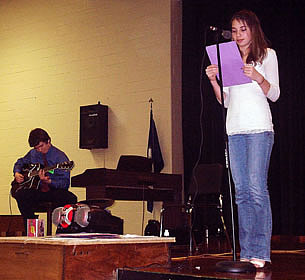 Salem Church Middle School student Sarah Mills reads her poetry along the with the jazz improvisations of VCU Jazz student Karl Morse in order develop her thoughtful phrasing as part of an inter-school grant project.
Photo credit: Antonio J. García.

LARRY PANELLA, Associate Professor, Director of Jazz Studies, University of Southern Mississippi: I have not sought to revise my curriculum, since the current situation allows me to cover what I need to and am able to cover as the sole jazz faculty. The process for major reform is very labor-intensive, time-consuming, and not at all necessary. I had a good framework to work with from the start.
Secondly, adding hours to the degree is not an option here. Cutting is, since the Institutes of Higher Learning Board wants our degrees cut down to 120 hours. (They offered Music, most particularly Music Education, a compromise of 134 hours.) We have not changed much in our offerings to achieve that. We were able to take things like recital class and make it 0-credit hours, tying it in with the applied-lesson grade. We also reduced our theory sequence from 3-credit Part Writing and 3-credit Aural Skills to 2- and 2-credit each semester.
There has not been much resistance to the jazz program here, in part because I have always tried to make sure my colleagues understand I want my area to enhance the overall program—attracting quality students and being part of a broad offering of performance training—and I want it to be accessible to classical performers interested in improvisation. We have neither the facilities nor resources to be an island. We are interdependent in a healthy way and manage to accomplish a lot with a little.
HAEMI HAEMMERLI, Head of Jazz Department, Musikhochschule Luzern, Switzerland: The European Union is in the process of restructuring all education programs on the University and Polytechnic level. So there are different criteria in Europe compared to the rest of the world. This process follows the "Bologna Declaration," a guideline interpreted differently in each country.
Here in Switzerland we have to follow guidelines given to us by the education ministry. Then, since each school is embedded within a local institution, you also have to follow guidelines given by the local institution.
So if you are already on the University level, you have to restructure your programs and curricula accordingly. If you're still a private school, you have to present a study program that corresponds to the local guidelines. Cooperation with other music schools is probably necessary; so if there's a conservatory or any other music school close by, you should cooperate and present yourselves together.
Then you have to lobby, lobby, lobby to convince all local politicians, officials, and other important people that your private school has to be moved to university level. Here this is at least very difficult because this costs the state a lot of extra money (music education being the most expensive study program).
DR. WALTER TURKENBURG, Head of Jazz Studies, Royal Conservatoire, The Hague; Lecturer in the History of Jazz, University of Leiden and University of Utrecht, The Netherlands; Executive Director, International Association of Schools of Jazz: At the Conservatoire, we renewed the application procedure for the Master's study, keeping the new European regulations in mind (the so-called "Dublin Descriptors"). Also, the learning outcomes of the Association of European Conservatoires (<www.aecinfo.org>) have been a valuable document for us. So what counts for us will count in broad terms for all of the approximately 200 music conservatories in Europe.
In order to be accepted for the Master program at the Royal Conservatoire the student has to present a recording of his playing and write a Study Plan. The Guidelines Study Plan Master's Study can be found at <www.koncon.nl>. In the Study Plan there has to be a balance between the practical, theoretical, and research aspects of the study. Theory and research are linked into what is called "practice-based research." The musicology-type of research is not requested but instead research directly linked to the performance practice that the student envisioned. The study itself will be measured not so much in how far the student has become a better player but more in how far the student has managed in bringing the fields of practice, theory, and research together.
RACHEL L. LEBON, Ph.D., Coordinator of Jazz Voice, Professor, Frost School of Music, University of Miami: It is difficult introducing and implementing a Jazz Vocal Program at the university level because, with very few exceptions, most university trained voice teachers have studied classical singing only and have never sung in the jazz or commercial idioms. Therefore, they are threatened or confounded by genres where singing is not directed towards an objectified vocal quality as set forth in the music as composed. There is also an ambivalent attitude towards vocalism derivative of the African American tradition.
I believe that a Jazz Vocal Program should function out of the Jazz Department and not out of the Voice Department. In the jazz environment, the solo singer strives to be a jazz musician with the voice as the instrument, freed to explore a myriad of vocal styles and sounds (swing, Brazilian, R & B, fusion, etc.) including improvisation while interacting with jazz instrumentalists to produce an authentic musical performance. It is my belief that the quality and sophistication of Jazz Vocal Programs will be severely limited if the school does not have a strong Jazz Instrumental Program.
For additional information, please see my second book, The Versatile Vocalist: Singing Authentically in Contrasting Styles and Idioms (Scarecrow Press), specifically Chapter 5, including "Pedagogical Adjustments to Musical Idioms" and "Jazz Vocal Pedagogy."
DR. LOU FISCHER, Professor, Jazz Activities Coordinator, Capital University Conservatory of Music: It is important when making a course or curriculum proposal that the presenter(s) be aware enough to be inclusive of all faculty, rather than exclusive. All too often it is easy to exclude without even realizing one is doing so.
For example, we wanted to move the jazz and music industry students to a more broadly based approach to music theory, one that incorporates jazz elements but embraces the tradition from which they come, such as Western Art Music and the Rhythms of Africa—one that embraced all elements of music in general! Our Orchestra Director then asked, "How will you address certain sixth-chords in this class, such as German, Italian, French, and Neopolitan sixth-chords?" I immediately answered that there would not only be lectures regarding tritone substitution in this class, but also a full explanation and study of these sixth-chords in which tritone substitutions are rooted. The only difference is the voicings used today: the rules are less stringent. He was satisfied with my answer and voted for the curriculum shift.
Not only did we receive almost a unanimous vote by the full faculty, we were able to receive an endorsement from the Music Education Department allowing its students to choose between the traditional theory or American Pop/Jazz sequences. Further, our Composition Area Head also added the Advanced portion of the course (second semester) as a requirement for all composition majors. Had we not thought of the all-inclusive angle prior to our presentation to faculty, instead taking a strict position that "jazz students need to study jazz theory," the course most likely would not have been passed by the full faculty.
Jazz is much more than just jazz; it is an outgrowth of all music. Quincy Jones said it best, if I may paraphrase: "Jazz is like osmosis; it eats everything in its past and what lies before it: reggae, funk, soul, fusion, country, atonal, modal forms, pop, Bach, Beethoven, Mozart, Stravinsky, Ravel, Debussy, rap, and more."
I look forward to this article, as we are in the swing of attempting to add a Jazz Minor for those that are not able to fulfill the obligations of the Major but have huge interest in the music!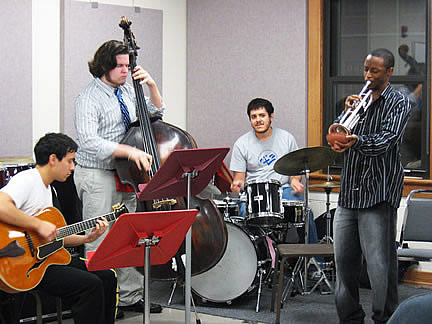 VCU Jazz students Jacob Sherman, Andrew Randazzo,
Sam Sherman, and Steven Cunningham perform
for visiting artist Marvin Stamm.
Photo credit: Antonio J. García.
ROBERT WASHUT, Professor, Director of Jazz Studies, 1980-2002, University of Northern Iowa: I designed our M. M. Jazz Pedagogy degree program in 1994. The only resistance I met initially was departmental concern about maintaining the academic integrity of the degree (that is, the basic graduate core common to all M. M. programs). Several programs I had checked out were quasi-vocational in that almost all of the coursework was in the area of specialization. I did not try to alter core requirements and thus met no opposition from School of Music faculty.
The regents were of course concerned about staffing, fearing that new faculty lines might be required. Once I explained that I could cover the instruction of any new course offerings, there was no objection; and the program was approved. After that I was able to acquire another jazz line, thus improving the overall quality of the degree program by providing more than one perspective.
One wrinkle did develop, however; and that concerned the course so central to the program: the jazz pedagogy course. By necessity and its very nature, the course is low-enrolled. Our university has a policy that no graduate course can "fly" if less than five students are enrolled. On several occasions I have had only two or three students enrolled in a given semester. Every time that happens, the Director [of the School of Music] has to explain to the Dean [of the College of Fine Arts] the nature of the course and why it is typically low-enrolled. So far it has always "flown." This semester I have only two students—and no problem.
ART MARTIN, then Adjunct Professor, Montclair State University, and IAJE United States Section Coordinator: I feel that a major in Jazz Studies is vital to the Music curriculum. However, I also feel that it is important for all Music students to study all aspects of Music. In education, it is vital for teachers to be well versed in all styles of music, since they will need to teach all styles. Regarding Music Performance, I think that musicians should be able to major in classical or jazz....
Many universities that do not offer a jazz component to their music curriculum need to look for qualified professional jazz musicians that can give the students the necessary background to excel in jazz and jazz education.
JOHN DAVIS, Jazz Studies Director, University of Colorado–Boulder: Here the M.M. in Jazz Performance and Pedagogy began in Fall 1998, the D.M.A. in Jazz Studies Fall 2005, and the B.M. in Jazz Studies Fall 2008.
Certainly, one must get the support of the administration—the chair, director, and/or dean—in order to proceed with a degree proposal. As these individuals are the "gate keepers," it makes no sense to proceed until each person understands and supports the initiative. Validation for the degree, if needed, may include students who are seeking such a degree but cannot receive it at this institution, plus a survey of how many schools already offer such a degree, the quality and reputation of those institutions, and the year when such a degree was first introduced at the school. Often administrators are entirely unaware of how prevalent jazz degrees are at other institutions, how many of the finest and most highly regarded institutions are offering degrees in jazz, and how some of these offerings have been in place for decades.
Keep your administration in the loop regarding the status of the degree proposal, your communication with other faculty and areas, and feedback from those faculty. Keep your administration on board and involved in any troubleshooting.
Some faculty may be hesitant to support such a degree, usually either unaware as to what comprises such a degree or because of a dated view that doesn't include jazz as a degree emphasis. So you must begin communication with area chairs, associated or concerned faculty (trumpet, trombone, sax, bass, and the like), and unrelated but voting faculty.
Be prepared to flex. Listen first, then respond. Often faculty will have a valid concern, one you may not have previously considered. If so, examine possible adjustments or compromises. Often you may not share the concern; but it is someone's valid view, nonetheless. Be willing to listen!
When a faculty member feels strongly about a point, you have three options. First, you can present your case strongly, with facts as to why your position makes sense. Be willing to allow the faculty member to respond, and be prepared to clarify your points. Second, you can compromise. This often makes your degree stronger, rather than diluting it. For example, if you had been opposed to including various classical studies within the degree, you could nonetheless include them. Offering classical skills taught by classical faculty will only strengthen the jazz students' skills and knowledge; and if classical faculty want to be a part of the jazz degree curriculum, that certainly benefits your degree in many ways. Third, you could adjust your proposal without compromising your view of the integrity of the degree. For example, you might add another semester of traditional theory or musicology without lessening the jazz offerings.
Faculty appreciate being consulted and updated about such things. Doing so demonstrates your desire to work along with other faculty and sends the clear message that you value their input and viewpoints. Do so in advance of any official proposal to the faculty at large so that you can address problems or questions before presenting the final proposal.
At all stages, ask yourself: "What might someone ask or express a concern about? If they raise this point, what will be my response? Why do we believe in this particular curriculum? What are the financial repercussions? Will this adversely affect any other area of the college/school?" This last question is the primary point for me: I do not move forward with a proposal until I feel that no other area would be adversely affected.
Be certain that you can offer your proposed degree at the highest level the students deserve. Do you have the resources, the faculty, the space, the time? Are you aware of the additional advising, recruiting, advertising, outreach, and communication challenges this will create; and can you handle them? A weak, unsupported degree is more worthless than no degree at all.
Learn to work with others: internalize feedback; seek counsel; be willing to compromise; and question your own priorities and motives while maintaining a positive relationship with your colleagues. I have found that this approach actually brings me closer to my colleagues and creates a more team-oriented environment. In the end, we want to have a degree that we all see value in, feel a part of its creation, and support. The nuts and bolts of the degree are important; but the communication with, education of, and consultation of our colleagues is even more so.
# # # #

VCU Jazz faculty Skip Gailes (sax), Bob Hallahan (piano), Mike Ess (guitar), Tony Martucci (drums), and Victor Dvoskin (bass)
jam with Western Albemarle High School horn players.
Photo credit: Antonio J. García.
(...from the author...)
In my first full-time university teaching position, I served as coordinator of a just-approved jazz program and so was active in the startup of a half-dozen new courses. At my next university, I served as point-person to pass the first undergraduate B.M. Jazz Studies degree curriculum ever approved within that very conservative academic culture. More recently, I received the responsibility of getting the first broad revision approved for Virginia Commonwealth University's B.M. Jazz Studies Program in 25 years—where the institution is less conservative, but where multiple attempts to make such a change in previous years had failed because of some entrenched opinions on both the classical and jazz sides of the fence.
The degree proposals at the latter two institutions eventually passed unanimously—not a single vote of opposition from any faculty member—but each only after two years of individual negotiations between each voting faculty member and me. My advice, based on these experiences, is as follows. I hope it is helpful; these suggestions are not meant to sound condescending.
Forget your own institution and its history for a moment. Start with a white paper: no core curricula, no prerequisites. Draft what you think would be the ideal Jazz Studies degree program for your students. Have other jazz faculty do the same exercise, and then compare notes. Do you come up with similar goals? Can you identify the mission of the degree? This exercise will usually reveal whether you and your colleagues believe, for example, that the best program for your students is Jazz, or Jazz and Commercial, or Jazz plus an additional B.M. or B.A. in Music Industry, or another option. You and at least a substantial committee of your jazz colleagues have to agree before you can get any further—even if your eventual approach is to model your curriculum after the basic structure of the existing non-jazz curriculum at your institution.
Then examine your school and its culture. First, what financial constraints are in place? Can you create the program you want with no added cost to your department for staffing, facilities, or other concerns? Because if you're seeking more departmental funding, your non-jazz colleagues are likely to object (unless they see the jazz program's growth as benefiting the whole school). Once I had a conversation in a public setting with a valued non-jazz colleague at another educational institution during which I congratulated him on the announced establishment of his school's jazz program. While attempting a smile, he struggled for words to sound positive about the development. It was clear he was deeply conflicted about the investment of financial, physical, and public-relations capital to which his school had just committed. So shoot for a curriculum that costs no more to run than what you have now—unless you have evidence that your school is ready to invest more in jazz.
What curricular pillars are currently in place that you (and your colleagues) believe really have to stay? Is it the core curriculum? At my two latter institutions, I managed to convince the faculty that the core for the classical B.M. students wasn't as applicable to the B.M. Jazz student. The core was then edited slightly differently for jazz majors.
What can be swapped, jazz for classical, if desirable? At VCU, for example, we were successful in switching a keyboard class for jazz keyboard, a music history for jazz history, a music theory for jazz theory, and more.
The four truest words about curriculum design are that "All curriculum is compromise." Something will always have to be left out in order to get the most important material in. It's always a question of priorities. Even if your proposal passes exactly as you'd envisioned it, it's a compromise: think of all the instructional aspects you've already had to leave out of it! So once you've arrived at a good draft, quit fretting about what's not in your plan: something's left out of every school's degree-plan.
Note what your recent Music alumni with jazz interests have said about what's needed in the curriculum. For instance, very few VCU jazz students immediately go on to graduate school: they go out and gig. Then they might go to grad school a few years later if their interest in it piques. So a lot of courses that various non-jazz faculty were adamant about retaining because "these prepare our students for graduate school" melted away quickly when our statistics showed that our jazz students weren't as interested in graduate school—and if they wanted to be, they could take some elective courses or do some self-study: these didn't need to be in the structure of the degree. Now, this may not be at all where your curriculum is heading; but it's a fine example of learning what the alumni would have wanted—or not—in their education.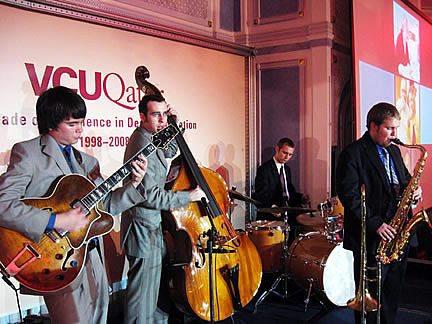 Students Karl Morse, David Asby, Dean Christesen,
and Jon Gibson perform in the Middle East
for the tenth anniversary of the VCU-Qatar Campus.
Photo credit: Antonio J. García.

Consider this: the vast majority of jazz faculty studied not only jazz but also classical skills during their own college/university years—if they had the opportunity to study jazz in school at all! Yet the vast majority of classical faculty have never studied jazz (nor, for that matter, other non-classical genres). So it is only natural that many classical faculty might be mystified, confused, or outright fearful of what is and is not taught in the jazz studies mentoring process. So invite them in: welcome them to observe jazz ensembles, classes, and private lessons. Pour positive energy into demystifying your jazz-educational model for your colleagues. Knowledge is power, and classical colleagues knowledgeable about your appropriate and successful approach can be powerful advocates in your quest to improve your curriculum yet further.
If some faculty or administrators then want something retained in or added to the curriculum that you don't, the best question to ask is: "Could you suggest to me what portion of my curriculum draft should be deleted in favor of having the course you want?" This is not a cynical question: it will either yield constructive suggestions or reveal to all that the draft does include what's most important. Colleagues who want to complain without offering constructive alternatives generally paint themselves negatively and become a minority.
A Music Industry course or the like belongs in every B.M degree, period. It was first required only of jazz majors at VCU but is now a requirement of nearly every performance degree program here. Any Music school turning undergrads out on the streets without the opportunity for at least a semester of music business study is in my opinion doing its students a disservice. So try to get that in the core of all your school's degrees, if you can!
Once you've got a curricular plan that the jazz colleagues can agree on, shop it to your chair or dean. If you get a thumbs-up, then shop it to some non-jazz colleagues you respect who, if they disagree with you, will tell you exactly why and perhaps even how you could improve it in their eyes. Then start shopping it to every voting member of the faculty, including assistant chairs/deans.
Once your non-jazz colleagues have contributed such ideas to your model, they have actually invested in it: they have a small amount of ownership in the proposal. This brings to mind a quote from a pedagogue and remarkable colleague, Don Owens, then-coordinator of jazz at Northwestern University: "Make it seem like their idea."
Don't bother bringing any proposal up for a vote until you already have most or all voting faculty already agreeing to it in private. That said, at each of my latter institutions there was one faculty member who—despite agreeing to the proposal in private—chose to reverse his opinion publicly at the faculty's meeting on the subject. In both cases, the faculty member could easily have contacted me in advance, let me know of his concerns, and allowed me to address them in private so as not to derail the proposal at the faculty meeting. But in both cases, these individuals chose the public route instead. If that happens, just table the proposal and negotiate in private. These matters delayed the approval by about a month in each case; but again, the approvals were unanimous in the end.
Maintain your cool, and focus on your goal. Don't react by retorting with anything (even facts) that will serve no other purpose other than to make you temporarily feel better. You're best served by winning them over later, if possible. Keeping my cool also won me big points with everyone else on the faculty who thought those two individuals had been out of line for not first raising their concerns with me privately.
And that leads to the most important lesson I learned at both latter institutions at the end of the two-year sleuthing process: it all comes down to how your non-jazz colleagues trust you. At both locales, I had been in place for two or more years before addressing the curriculum; and during that time, my non-jazz colleagues had been observing me carefully. When it came down later to my private appointment with most non-jazz faculty members, the common response I heard was: "Look, I trust you to know what's best for your students. Go for it. Maybe tweak that line there." They were already assured of my motives in wanting the proposal: had they not been, no amount of my talking would have convinced them otherwise. So make sure your reputation and rapport with them is solid before proposing major changes to the curriculum.
What's "right" for your curriculum depends largely on the culture of the institution you're in. There are certainly many useful articles on the subject of jazz curriculum. Two with a fairly unique twist are housed on my web site. For those faced with convincing colleagues about the validity of jazz vocal instruction, browse "Vocal Jazz and its Credibility in the University Curriculum" by Diana R. Spradling; Jazz Educators Journal, International Association of Jazz Educators, Vol. 32, No. 5, March 2000, archived at <www.garciamusic.com/educator/iaje.journal/iaje.jej.html>. And for those pursuing jazz additions within their schools' Music Education curriculum, consider "Teacher-Training for Undergraduate Students in the New Millennium" (co-written with representatives of NASM, MENC, and individual schools of music), Jazz Educators Journal, International Association of Jazz Educators, Vol. 32, No. 2, September 1999, archived at <www.garciamusic.com/educator/articles/articles.html>.
In closing, remember that the wheels of change do sometimes spin slowly, as summarized by a joke told to me long ago by a faculty colleague. How many professors does it take to change a light bulb? "Change! CHANGE! Not CHANGE!"
Antonio J. García is a Professor of Music and Director of Jazz Studies at Virginia Commonwealth University, where he directs the Jazz Orchestra I; instructs Applied Jazz Trombone, Small Jazz Ensemble, Music Industry, and various jazz courses; founded a B.A. Music Business Emphasis (for which he initially served as Coordinator); and directs the Greater Richmond High School Jazz Band. An alumnus of the Eastman School of Music and of Loyola University of the South, he has received commissions for jazz, symphonic, chamber, film, and solo works—instrumental and vocal—including grants from Meet The Composer, The Commission Project, The Thelonious Monk Institute, and regional arts councils. His music has aired internationally and has been performed by such artists as Sheila Jordan, Arturo Sandoval, Jim Pugh, Denis DiBlasio, James Moody, and Nick Brignola. Composition/arrangement honors include IAJE (jazz band), ASCAP (orchestral), and Billboard Magazine (pop songwriting). His works have been published by Kjos Music, Hal Leonard, Kendor Music, Doug Beach Music, ejazzlines, Walrus, UNC Jazz Press, Three-Two Music Publications, and his own garciamusic.com, with five recorded on CDs by Rob Parton's JazzTech Big Band (Sea Breeze and ROPA JAZZ). His scores for independent films have screened across the U.S. and in Italy, Macedonia, Uganda, Australia, Colombia, India, Germany, Brazil, Hong Kong, Mexico, Israel, Taiwan, and the United Kingdom.
A Bach/Selmer trombone clinician, Mr. García serves as the jazz clinician for The Conn-Selmer Institute. He has freelanced as trombonist, bass trombonist, or pianist with over 70 nationally renowned artists, including Ella Fitzgerald, George Shearing, Mel Tormé, Doc Severinsen, Louie Bellson, Dave Brubeck, and Phil Collins—and has performed at the Montreux, Nice, North Sea, Pori (Finland), New Orleans, and Chicago Jazz Festivals. He has produced recordings or broadcasts of such artists as Wynton Marsalis, Jim Pugh, Dave Taylor, Susannah McCorkle, Sir Roland Hanna, and the JazzTech Big Band and is the bass trombonist on Phil Collins' CD "A Hot Night in Paris" (Atlantic) and DVD "Phil Collins: Finally...The First Farewell Tour" (Warner Music). An avid scat-singer, he has performed vocally with jazz bands, jazz choirs, and computer-generated sounds. He is also a member of the National Academy of Recording Arts & Sciences (NARAS). A New Orleans native, he also performed there with such local artists as Pete Fountain, Ronnie Kole, Irma Thomas, and Al Hirt.
Mr. García is a Research Faculty member at The University of KwaZulu-Natal (Durban, South Africa) and the Associate Jazz Editor of the International Trombone Association Journal. He serves as a Network Expert (for Improvisation Materials) for the Jazz Education Network and has served as President's Advisory Council member and Editorial Advisory Board member. His newest book, Jazz Improvisation: Practical Approaches to Grading (Meredith Music), explores avenues for creating structures that correspond to course objectives. His book Cutting the Changes: Jazz Improvisation via Key Centers (Kjos Music) offers musicians of all ages the opportunity to improvise over standard tunes using just their major scales. He is Co-Editor and Contributing Author of Teaching Jazz: A Course of Study (published by NAfME) and authored a chapter within The Jazzer's Cookbook (published by Meredith Music). Within the International Association for Jazz Education he served as Editor of the Jazz Education Journal, President of IAJE-IL, International Co-Chair for Curriculum and for Vocal/Instrumental Integration, and Chicago Host Coordinator for the 1997 Conference. He served on the Illinois Coalition for Music Education coordinating committee, worked with the Illinois and Chicago Public Schools to develop standards for multi-cultural music education, and received a curricular grant from the Council for Basic Education. He has also served as Director of IMEA's All-State Jazz Choir and Combo and of similar ensembles outside of Illinois. He is the recipient of the Illinois Music Educators Association's 2001 Distinguished Service Award.
The Secretary of the Board of The Midwest Clinic, Mr. García has adjudicated festivals and presented clinics in Canada, Europe, Australia, The Middle East, and South Africa, including creativity workshops for Motorola, Inc.'s international management executives. The partnership he created between VCU Jazz and the Centre for Jazz and Popular Music at the University of KwaZulu-Natal merited the 2013 VCU Community Engagement Award for Research. He has served as adjudicator for the International Trombone Association's Frank Rosolino, Carl Fontana, and Rath Jazz Trombone Scholarship competitions and the Kai Winding Jazz Trombone Ensemble competition and has been asked to serve on Arts Midwest's "Midwest Jazz Masters" panel and the Virginia Commission for the Arts "Artist Fellowship in Music Composition" panel. He has been repeatedly published in Down Beat; JAZZed; Jazz Improv; Music, Inc.; The International Musician; The Instrumentalist; and the journals of NAfME, IAJE, ITA, American Orff-Schulwerk Association, Percussive Arts Society, Arts Midwest, Illinois Music Educators Association, and Illinois Association of School Boards. Previous to VCU, he served as Associate Professor and Coordinator of Combos at Northwestern University, where he taught jazz and integrated arts, was Jazz Coordinator for the National High School Music Institute, and for four years directed the Vocal Jazz Ensemble. Formerly the Coordinator of Jazz Studies at Northern Illinois University, he was selected by students and faculty there as the recipient of a 1992 "Excellence in Undergraduate Teaching" award and nominated as its candidate for 1992 CASE "U.S. Professor of the Year" (one of 434 nationwide). He was recipient of the VCU School of the Arts' 2015 Faculty Award of Excellence for his teaching, research, and service. Visit his web site at <www.garciamusic.com>.
If you entered this page via a search engine and would like to visit more of this site, please click | Home |.